Work
William Tell : Overture (excerpts)
Guillaume (William) Tell is a four-act opera by Gioachino Rossini to a libretto by Étienne de Jouy and Hippolyte-Louis-Florent Bis after Schiller's play. It was Rossini's final opera. It premiered at the Paris Opera in 1829. Unlike most of Rossini's operas, it's in French.
It is considered one of the composer's masterpieces, a powerful and ambitious work with a prominent political subtext. The plot centres on the famous arbalist (crossbow archer) who led the 14th‑century revolt of the Swiss cantons against the Austrian occupation. The Orchestre symphonique de Québec performs the finale, depicting the Swiss peasants' victory over the Austrian troops. It's a lively, celebratory romp with lots of brass and percussion. The entire overture is notoriously difficult to play, replete with technically challenging passages that go by at high speed.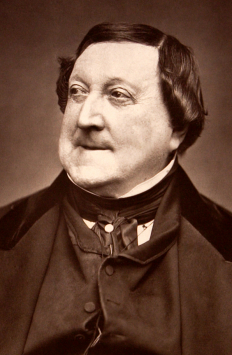 Gioachino Rossini
Gioachino Rossini was an Italian composer of the Romantic period. He was born in Pesaro in 1792 and died in Paris in 1868. He is chiefly known for his operas, of which he wrote 39 over a period of less than 20 years. He also wrote melodies, odes, sacred music, and instrumental pieces.
Rossini's best works include Guillaume Tell, La Gazza Ladra, and the Barber of Seville. His melodies are famously catchy and many have become standbys of popular culture. The William Tell overture for example is a staple of Mickey Mouse cartoons, while the Barber of Seville appears in Bugs Bunny.
Rossini was also a well-known foodie—an inventive chef, epicure, and a guy who just loved to eat. Some of the tasty dishes he enjoyed appear as titles for compositions, including as Bolero tartare, Hachis romantique ("Romantic Hamburger"), and Ouf! Les petits pois ("Phew! Peas"). It ran the other way too: "tournedos Rossini" is named after him, and other foods after his operas, like the William Tell tart and Gazza Ladra pastries.
Rossini's laziness was also legendary, and a story went around about him preferring to compose in bed. One day he supposedly dropped a page of the score he was working on, but rather than take the trouble to pick it up, he just wrote something else.