Work
Carmen: Suite No. 1 : Prelude and Aragonaise
Carmen is probably the most famous opéra comique. It was written by Georges Bizet in 1875 based on a novella by Prosper Mérimée. The libretto is by Henri Meilhac and Ludovic Halévy. The premiere at the Opéra-Comique in Paris gave little hint of the classic the opera would one day be. Bizet himself died three months later, and never knew of the glory his masterpiece was to enjoy.
Carmen is a four-act opera set in Spain. It recounts the tragic love of Carmen, a cigarette factory worker, and Don José, a dragoon corporal. In the passage performed here by the Orchestre symphonique de Québec, we hear first the prelude, which translates the tragic fate of the main characters into music. The Aragonaise then takes us to the city of Seville where the action unfolds. An Aragonaise is a Spanish folk dance often accompanied by guitars and castanets.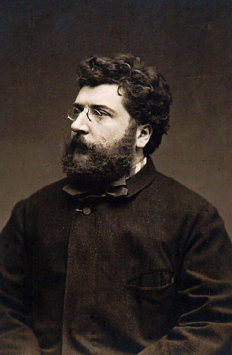 Georges Bizet
Georges Bizet was an important composer of the French Romantic period. He was born in Paris in 1838 and died in Bougival in 1875. He is known for his operas and orchestral suites. His career, like Mozart's, was cut short by his death at age 36.
Bizet grew up in a family of musicians. His father taught singing and his mother was a pianist. His impressive aptitude for piano was seen at an early age. He entered the Paris Conservatory at age 9, where one of his teachers was Charles Gounod. He wrote his first symphony at age 17.
Unfortunately, Bizet's early compositions failed to find much of an audience. Initially he had to arrange and transcribe the music of other composers to make a living. Some of his early works did catch on later, such as L'Arlésienne. The other works he is best known for today, the operas Les pêcheurs de perles and Carmen, became popular only after his death.