Work
Ma mère l'Oye : V. Le jardin féérique
Maurice Ravel first composed Ma mère l'Oye for piano four hands between 1908 and 1910. He then arranged it for orchestra in 1911. Then, in 1912, the suite for orchestra was expanded and became a ballet, created in honor of Jacques Rouché, in Paris, at the Théâtre des Arts. However, it is the orchestral suite that has taken a more important place in the repertoire today.
In this work, Ravel was inspired by Charles Perrault's Les contes de ma mère l'Oye (1697) as well as the tales of the Countess of Aulnoy and Mme Leprince de Beaumont. Indeed, well-known characters from tales such as Sleeping Beauty, Little Thumb, Beauty and the Beast are invoked in the titles of the movements.
The orchestral suite Ma mère l'Oye has five movements, including Le jardin féérique. This last movement, which includes the indication " Lent et grave ", is of a remarkable beauty. It seems to evoke the magic of children's stories. As you listen, try to spot the beautiful violin solo.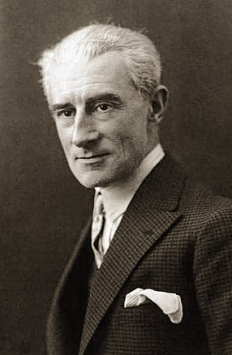 Maurice Ravel
Maurice Ravel is a French composer born in Ciboure in 1875 and who died in Paris in 1937. He studied at the Conservatoire de musique de Paris with, among others, Gabriel Fauré. Known for his sophistication and sensitivity, Ravel explored new sonorities and instrumental possibilities in the early 20th century. Along with Debussy, he is often associated with the Impressionist movement in music. In addition, jazz plays an important role in his later works: for example, in his two piano concertos, one can hear several elements directly taken from jazz.
Ravel was a master of orchestration: in his work, he took several pieces already written, often for piano, which he then arranged for orchestra. Ma mère l'Oye is a good example, as well as Tableaux d'une exposition by Moussorgski. The Bolero, which the composer himself considered a study in orchestration, remains one of his most frequently performed works today. Other famous works include his ballet Daphnis et Chloé and Pavane pour une infante défunte.